If you have a senior dog, a dog with arthritis, or a dog with other mobility issues, it may be time for dog stairs or a ramp. In fact, stairs and ramps can also make life easier for some very small dogs or breeds with short legs and long bodies, like Dachshunds and Corgis. Your beloved canine pal shouldn't have to struggle to get up on the sofa or bed or into the car. And, depending on his size, it may be difficult for you to constantly lift and carry him. Fortunately, there are dog stairs and ramps suitable for any dog and any location. Follow these helpful guidelines to choose the right product for your dog's needs.
Should I get stairs or a ramp for my dog?
Stairs are a good choice for dogs that have the agility and balance to use standard household stairs. Many are portable and can be moved from sofa to bed to car. They also tend to take up less floor space than ramps.
If your dog is having trouble maneuvering the stairs in your house or if you live on one level and he's unused to climbing any stairs, consider a dog ramp. You'll want a ramp that has a gentle incline and is high enough to reach furniture or your vehicle.
How do I choose the best stairs for my dog?
Look at the rise, or the height of each step. It should be similar to the rise of regular indoor and outdoor steps.
It's easier for dogs to maneuver deep steps, so look for products that have a step depth of 10-to-12 inches.
Be sure the stairs have an anti-skid surface. Your dog's paws must be able to grip the surface so that he doesn't slip off.
Make sure the stairs are high enough for your needs and will support your dog's weight.
What should I look for in a dog ramp?
As with stairs, make sure the ramp reaches high enough for your dog to get onto furniture or into the car.
If space is an issue, choose a lightweight ramp or one that folds up. This makes storage easier.
The ramp should have an anti-skid surface, so your dog can maneuver on it securely.
Whether you choose stairs or a ramp, you may have to teach your dog to use them. Use positive reinforcement and rewards to train your dog. Your goal is to help him feel confident on this new apparatus. So confident, in fact, that he'll use it even if you're not around.
Our Top Picks for Dog Stairs and Ramps
Dog Stairs
PetSafe Solvit PupSTEP Plus Pet Stairs
Only five pounds in weight, but sturdy enough to support up to 150 pounds, these pet stairs come in two different sizes: Standard and X-Large. More than 11,000 pet owners approve of the stairs, making it one of the most reliable options. Price: $40-60
Best Pet Supplies Foam Pet Steps/Stairs
Available in 3-step, 4-step, and 5-step configurations, these CertiPUR-US Certified Foam steps come in more than a dozen colors to match any furniture. The foam design makes these steps a good choice for senior dogs or those with joint issues. Price: $46-76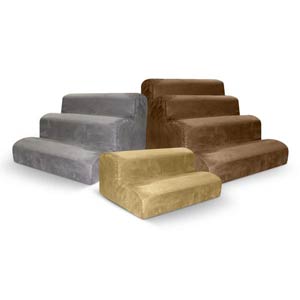 These stairs are sturdy, lightweight and made from recycled ecofoam, which is a nice treat for the environment. The wide landings and rounded edges give your dog a stable grip as he ascends or descends. Added bonus: the cover is removable and machine washable. Price: $100-200
Dog Ramps
Pet Gear Stramp Stair and Ramp Combination
Gently sloped to make it easier for pets to reach sofas, this ramp is easy to set up and move. The carpet tread removes easily and is machine washable. Price: $48
Strong wood with a cherry finish and non-slip carpet covering, this bedside ramp can hold dogs up to 120 pounds. This ramp is perfect for families who let their pup sleep in their bed. Price: $96
This portable pet ramp is perfect for life on-the-go. The folding ramp features a carrying handle for easy transport and an anti-skid surface for improved traction. Price: $90
Source Akc.org link here